Together with the power, Vladimir Groisman inherited many problems that ceased the development of domestic gas production. Armed conflict in the Donbas, high levels of corruption and the slow pace of economic reforms and ineffective public management that gave rise to the hidden and obvious conflicts of private business owners of gas assets led to lower business activity and postponed until better times for new projects.
Despite the negative trend in 2015, gas production from independent producers increased by 16.4% to 3.86 billion cubic meters. For the first time in the history of Ukrainian industry, the private companies exceeded 19% of total gas production in the country, which is 19.2 billion cubic meters (3.1% less than 2014).
What should the newly elected Cabinet do in order to improve investment strategy in the oil and gas industry and reduce to a minimum dependence on expensive energy imports for the Ukraine? Forbes spoke with the head of Arab Energy Alliance UA, Raid Bu Khamseen. Born in Saudi Arabia, Mr. Raid Bu Khamseen has been in oil and gas industry over 18 years. He also has experience in managing companies in Ukraine, Russia and other middle east countries.
In the interview with Forbes, Raid Bu Khamseen first described the terms of the agreement between Arab Energy Alliance and Kuwait Energy on the acquisition of mining assets in Ukraine, (held in April 2014). He proposed the conditions under which it would be possible to have effective partnership of the state and private investors in the oil and gas business. The decisions to improve the investment strategy in the country must be approved by the Cabinet and Vladimir Groisman. In addition, the businessman shared his experience of productive strategies that could be done to benefit interests of the Ukraine.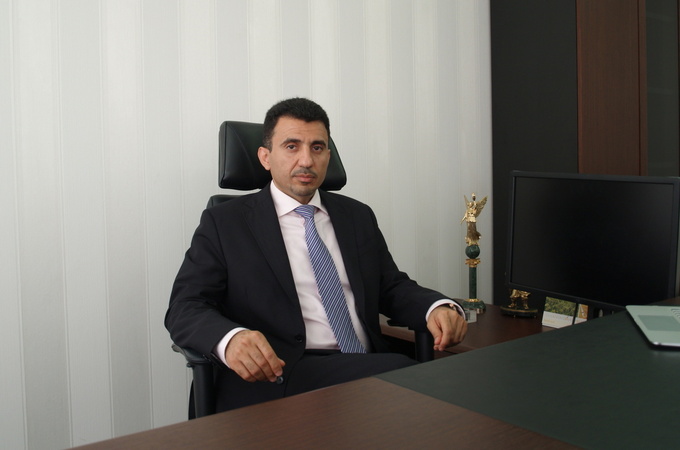 1. ArabEnergyAlliance one of the few gas companies on the Ukrainian market, which is owned by foreign investors. What attracts you in Ukraine?
We are not new in Ukraine Oil and Gas sector, the foreign investment have been around from September, 2005 when Cardinal Resources plc acquired Rudis Drilling Company which operate three two assets in Ukraine Dubrivska, Bilousivsko-Chornukhinska, North Yablunivska and 50% working interest in a Joint Activity Agreement ("JAA") with Ukrgazvydobuvannya, a subsidiary of Naftogaz Ukraine, for which Rudis was the operator.
Kuwait Energy acquired 100% of Cardinal Resources Plc's assets in Ukraine in December 2007 and sold their assets in Ukraine to Arab Energy Alliance in April 2014 which is owned by a group of investors from different Arab countries and Spain. Originally what attacked us to Ukraine was Ukraine fiscal terms which were reasonable and allowed the industry to expand and grow even though many challenges were facing the optimum growth. Ukraine demand for gas was increasing and the gas market was in need for expansion which was another base for our decision to enter into the country.
2. This year the company celebrates its 15th anniversary, what do you think was the main achievements of  your company in Ukraine?
Over the last decade, we have accumulated significant amount of geological, seismic and well data which made us strongly believe in the potential of our assets in Ukraine and we strive to realize this potential. We also learned how to deal away with local related challenges such as lack of new technology and corruption. Basically, we learned all the business survival skills.
3. Exactly two years ago ArabEnergyAlliance acquired production assets from "Kuwait Energy." The two companies are somehow connected?
Kuwait Energy Ukraine was 100% acquired by our company for 18.3 Million USD and our total investment in the company since its acquisition is more than 3 million USD. There is no relation between the Arab Energy Alliance UA and Kuwait Energy Company at any level of ownership or in any other way.
4. Where ArabEnergyAlliance still works today?
Our company operates in Ukraine and evaluating a number of opportunities in Romania and Tunisia for acquisition.
5. In August 2014 rent for gas production for the private gas companies has doubled, reverse decrease of rent was only in January 2016. How it was reflected in the company's operational and financial performance?
Increasing of rent had severe consequences on the company in a number of ways
Loss of cash income limited our ability to develop our fields as per our plan so we had to halt drilling and workover operations. This eventually led to drop in the production which reduce our company income even further.
We had to reduce our staff by 20% and salaries even more than 30%
We had to further optimize our expenditures and cut cost everywhere in the company
We had to stop all the noncompulsory training which was aiming to develop our Ukrainian staff.
6. Is it possible to say that after reducing the rent in 2016, gas production industry of Ukraine has again become attractive to foreign investors?
Yes the industry became more attractive, relatively and compared to before. But, it is not easy to say the gas industry in Ukraine is attractive as the government need to take further steps to stimulate the industry especially to recover the industry from the damage which was induced by the authority on the industry by increasing the rent.
7. Are you ready to invest in the development of your Ukrainian assets?
We are here for that only and we hope we can grow and further develop our assets in Ukraine to realize its full potential. However, for that to happen, the government need to take the extra steps and walk one more mile toward making production increases realistic and achievable.
8. What are your plans for 2016? Does the company have the opportunity to substantially increase gas production, to what level?
We started resumed workover operations and we plan to resume drilling operations in our producing asset Belovskayia. We forecast production increase of 40% from this well unfortunately we don't anticipate any production increase until year 2017.
9. In January, Canadian Serinus Energy has sold 70% Ukrainian "daughter" of "Cube-Gas", for $ 35 million. Are you considering the purchase of existing assets in Ukraine?
Not at the moment. We already have our own assets which we know very well and it is under-developed. So, our current target is to develop our existing assets in Ukraine.
10. In addition to your own areas the company participated in a joint activity with the state company "Ukrgasdobycha". What is the fate of this project?
In May 2014, work under the JAA was discontinued and we don't know whether cooperation will continue with Ukrgasdobycha. We believe the government need to find a way to attract investor to the Joint Activities with state companies which is an international practice because it is important to increase Ukraine gas production and meet the set gas production target by year 2020. This can be achieved by establishing terms and conditions which are beneficial for all related parties.
11. How would you characterize the current political and economic situation in Ukraine in terms of the oil and gas business? How does it affect the business of your company?
The target set by Ukraine authority is to increase the production from 19.8 mcm to 27 mcm by year 2020. This target is achievable and realistic given the required backing. Yet, are we (collectively) in Ukraine are doing what it takes to achieve this objective???
We should all share and pair the responsibility toward this objective and we should aurcestrate our way around it as one BODY… completing each other.
Ukraine Gas Market is influenced by
Influenced by regional political relations which drive the economic relations behind it as we have seen lately in Russia Ukraine conflicts.
International oil prices is always the main factor driving the Gas prices … Therefore, middle east political crises (for example) does affect our Gas market in Ukraine indirectly yet significantly. Like an earth quick originating in Meddle East rated 8 on Rekhter scale …. Resonating in Ukraine reading 6 on rekhter scale.
Meddle east crises and Ukraine-Russia conflicts created political decisions to drive oil prices down in order to punish oil/gas producing countries… which are acting against the well of the major powers… when oil price goes down… gas price does the same…. And on the contrary … when things are more quit and political conflicts are resolved, the need for such pressure on oil producing countries and on the oil sector will be needed no more hence the oil prices will improve and gas process will follow.
12. How does your company lobbies its interests in Ukraine? What strategy is considered optimal for independent production companies, to enable them to successfully develop their business in the country? What participation of the state in this direction is expected?
We are members in (European Business Association and American Chamber of Commerce in Ukraine) and we use our membership to voice our opinion to the industry community and government institutions.
Attracting financing for gas market players
It is very difficult to convince international investors to inject their capital into countries (At war or going through political crises / even political evolution) because the energy sector is strongly tied the politics.
Example: I had an Arab investor ready to invest in Ukraine gas sector and gave final orders to invest 46 Million USD, one week later, the revolution started and Kreshatik was on strikes. The investor immediately halted his investment plans.
Solutions:
Improve transparency and fight corruption.
Detailed and clear laws and legislations for the energy sector.
Reduce bureaucracy and redundancy of procedures. Establish new and more efficient procedures for licensing, drilling, land use/road constructions/ surface facilities permits
Temporary Tax holiday / reduction for international investors as entry incentive especially considering the current political climate in the country.
Recognizing that the political stability is vital for international investors, attempt to achieve political stability and capitalize on any movement in its direction by highlighting it in the international media.
Challenges which face the investors and financial institutions in gas industry
Operators in Ukraine suffered significantly during the last year due to the tax inflation which also led to slowing down the development activities hence reduce the gas production. Yes, we are relieved from this pressure yet we still suffer great financial burdens (debits) which need to be cleared a way. In order to pursue the operators to further invest in Ukraine and to post the gas production ultimately, I suggest
The government consider further global tax reduction (at least on temporary bases).
I also suggest the authority to consider conditional tax reduction to be implemented. For example, If

An operator execute its planned drilling and development activities duly and timely,
An operator deploy new drilling technologies or production stimulation / gas lifting technologies.
An operator drill to deep targets or basement rocks.

The government can also ensure that the operators recycle the reduced taxes in the development of Ukraine project.

Reduce bureaucracy and redundancy of procedures. Establish new and more efficient procedure for licensing, drilling, land use/road constructions/ surface facilities permits.
Eliminate corruption.